Basic FeaturesSearch Bar:
Use the predictive search to find addresses, layers, tools, schools, parks, roll number etc. Just start typing and select from the results.

Layers:
Expand the Layers tab to access the Basemaps Aerial Imagery, Map Layers, and Legend.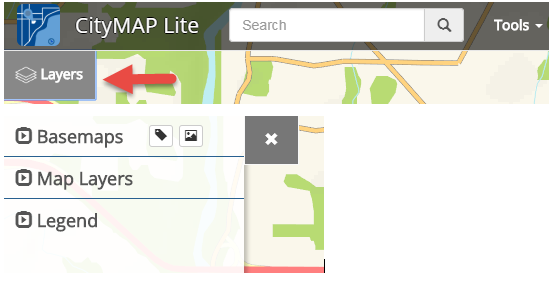 Basemaps:
Expand the Basemaps arrow to access the Wireframe, 2007-2017 Aerial Images, Colour Theme, and a new Grey Theme basemap option. Click the Aerial labels toggle icon to turn address labels on and off with the images, Wireframe, or Grey Theme.

Map Layers:
Expand the Map Layers arrow to access the different categories of layers. Click the plus sign to view layers within a specific category. Highlight a layer to turn it on/off.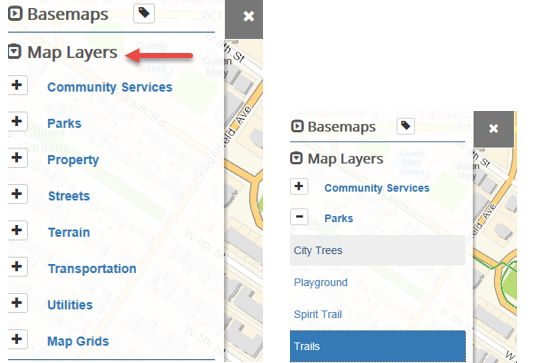 Legend:
Expand the Legend arrow to view the features currently displayed on the map.

Zoom In & Out:
The Zoom In & Out buttons are located in the bottom left corner of the map. Or use your mouse

Tools
Click on the Tools text and arrow to expand the action features available.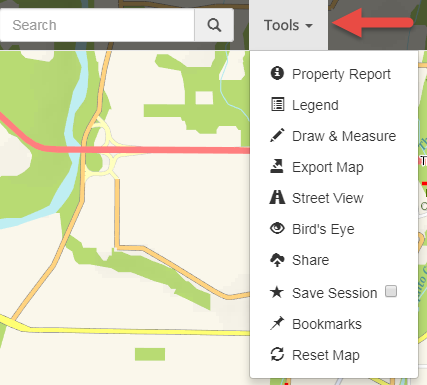 Property Report:
Choose 'Property Report' from the Tools drop down and select your property of interest. If the property is a strata, you can select individual addresses within the Property Report to find information specific to that strata unit.